Margolin Development is an Inventive Product Development company with consultants available around the globe. Rent-An-Inventor™ is also a division where an Inventor/Product Development consultant can be utilized to bring your company to the forefront of technology. Now 27 patents!
Margolin Video Visor for iPhones, Smartphones, Camcorders, point and shoot cameras to reduce the SUN. (Patent)
Margolin Steady Snake Video/Camera Tripod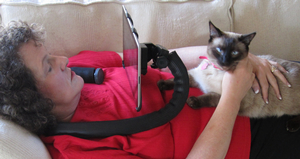 Visit our InventorsBlog
Inventor of the Week- MIT "Curious George" Margolin claims that the key to success as an inventor is, in a nutshell, "Be a child!" By which he means: keep an open and optimistic mind, ask questions, imagine possibilities, and never be afraid to make mistakes. Certainly, Margolin's own career proves that this theory works.
~~~~~~~~~~~~~~~~~~~~~~~~~~~~~~~~~~~~~~~~~~~~~~~~

An Inventor Never Grows Up!
~~~~~~~~~~~~~~~~~~~~~~~~~~~~~~~~~~~~~~~~~~~~~~~~
- Fortune article- A Hollywood inventor protests the patent bill
H.R.1908 /S.1145 POLITICAL CARTOONS
George and the Patent Fight published in over 250 papers!


Glare blocking camcorder/camera stabilizing eye level viewfinder device and method

Heat transfer system with supracritical fluid PDF

Medical Disposable Unidose Safety Syringe -Great New Product- Animation!

Background On Margolin Development

Vita on George Margolin

See Our Many Patents


Invention Convention Gateway to the World of Inventing. Free-for-All resources at NCIO, America's Inventor Online Magazine, Invention Convention Cyber-Show featuring New Products available for sale.

Invention/Inventor Resources & Links

Margolin Development and Rent-An-Inventor™
Telephone: 949-645-5950

Postal address: PO Box 11747, Tempe AZ 85284 USA

General Information: inventor00@margolindevelopment.com
Webmaster: webmaster@margolindevelopment.com